President Bill Clinton presided over the opening of his Presidential Library yesterday, in Little Rock, Arkansas. Rain pelted the 3 former and 1 current President(s) who attended, along with 30,000 onlookers. By all accounts, the library will be a full, open accounting of the Clinton presidency, and I'm absolutely certain will be fascinating, whether you were a Clinton supporter or not.
But tell me, why does
President Clinton's library
building resemble a mobile home in a trailer park?

I know I'm not the only one that's noticed. President Clinton says the design of the building, sort of leaning or reaching out to the river, is meant to evoke images of a bridge to the future. Uh huh. Surely, in all the design reviews, at least one staffer HAD to speak up and say, "uhm... guys... you realize this building is starting to look like a mobile home?" Look at this artist rendering of the finished library and grounds, and tell me you don't immediately think "hmm.. looks like a trailer."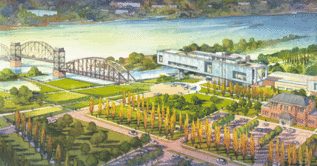 I mean, it's in Arkansas for goodness sake! Butt of every mobile home and tornado joke ever told!
Even under construction, someone had to scratch their heads and think, "I just don't know...."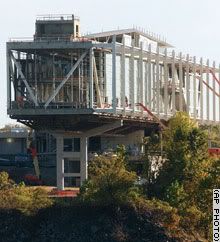 I have to admit, though, it's a much better design than many other proposals. For instance, there was the Clinton Library's Saudi Annex which was proposed and quickly quashed.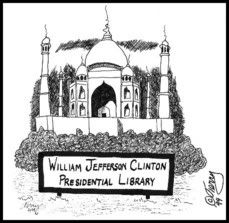 A more rural setting with a modest budget was originally proposed.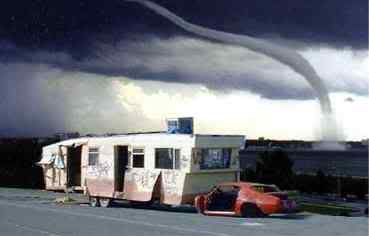 Plans for a separate gift were dropped early, also.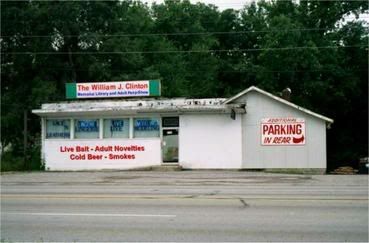 If I'm ever flying back east, and my plane breaks down and is forced to land in Little Rock for repairs, I do hope to visit the Clinton Presidential Library.
And as a final kick in the pants, visit the
Counter-Clinton Library's
website for an informative tour of their proposed library. Hillarity abounds. Pun intended.