I've become a DVD junkie. Kinda. I love Hollywood and Blockbuster video when they have their used DVD sales. See, I'm so bad at taking rentals back, I'd rather just buy the movie and keep it, than rent it, forget about it, and owes huge late fees.
So, in the last month I've bought:
Starsky & Hutch
(If you truly have nothing better to do, check out the
Starsky & Hutch pinball game
. Uh huh... pinball game.
Along Came Polly
Butterfly Effect
(awesome! You must watch the director's cut, too. Trust me!)
The Whole Ten Yards
Confessions of a Teenage Drama Queen
Runaway Jury
and the quirkiest choice I've made this month,
I'm with Lucy
, which was Camie's choice, and
wound up being really cute.

(Monica Potter stared, so it could have been crap, I'd have still watched it.)
I need to buy a bookcase to store my DVDs. The entertainment center I have is starting to get a bit crowded.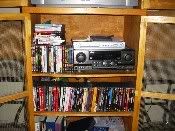 Lastly, I don't know who this guy is....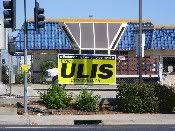 but I'm not going to vote for him
specifically
because these huge yellow signs occupy every bare fence and field. I'll be curious to see how soon AFTER the election he takes them down.