Took a drive to San Francisco today. Being Labor Day, most people had left the city for the weekend. Traffic was great and parking was plentiful, and free! So I packed my camera and went off in search of some photos.
I drove into the city from the north, down Hwy101 from Sausalito. I've never come this way before, so it was exciting to see the top of the Golden Gate Bridge tower suddenly come over the top of the hill. I stopped at the recreation area at the headlands, and hiked the short hike to
Battery Spencer
for some photos.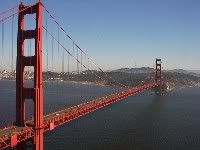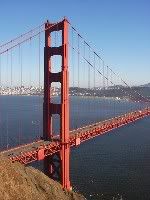 This spot, and this particular view of the Golden Gate, has been featured in countless movies and photographs, and now I see why. It's an awe inspiring view. If you ever get to San Franciso, you must cross the Golden Gate and take a stop here. If you can't, check out this page at
VirtualGuideBooks.com
for a good idea of what it's like.
I left the Golden Gate and wandered around the Presidio a bit, watching kite-flyers and just generally taking in the nice day. There were lots of picnicers and joggers and boaters.
Then I headed downtown, through Chinatown, and the financial district, where I wandered around until about dark.
I'm fascinated by San Francisco's skyline.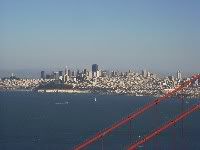 It's growing and changing constantly, but I'm drawn to it's main feature:
The TransAmerica Pyramid.
This building is huge! 853 feet tall, it's the 4th tallest building west of the Mississippi.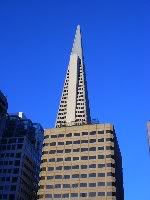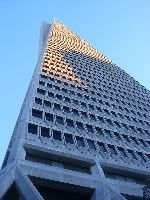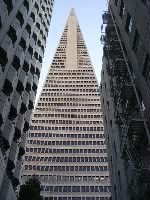 I felt like a little ant standing next to it. Very impressive.
Check out some more of my photos of this trip at my
PhotoBucket page
.