I went to breakfast with my dad this morning, as is my usual Wednesday faire. He just loves getting out of the house, and we talk about everything under the sun. It usually comes around to current events, and we solve the worlds problems. I will miss my dad when he goes. He is 78, legally blind, had a 5-way heart bypass about 6 years ago, and just had his right hip replaced in June. He's being held together with bailing wire and chewing gum, and I know that one day, probably not all that far off, he will shuffle off into eternity as humans have done since Adam and Eve were forced to leave the Garden of Eden. I will be profoundly sad, and miss him greatly, but I will not mourn in the traditional sense. I've gotten to know this man very well, and we've shared a great deal, and I have had the chance to say to him all the things I wanted to say. There will be no regrets for me when he goes. Loss and sadness, yes, and grief. But no regrets.
Which leads me to the 2nd part of my day. Two weeks ago, my daughter Emily took her dog, Bitsie, back to the breeders at Guide Dog's for the Blind (GDB), in San Rafael. Bitsie was a Guide Dog puppy who didn't make it through training. She's been a family dog for the past 8 years or so. Her health was deteriorating rapidly, and the family vet couldn't figure out why. So Emily called GDB to see if she could bring her in, to let their vet's have a look at her. GDB's policy has always been,
once a Guide Dog, always a Guide Dog,
so they took Bitsie back.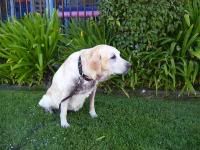 Well, they figured out what was wrong with Bitsie. She had a horrible skin infection, which they took care of with anti-fungal medicines, and anti-biotics. But they did a blood test and found the calcium levels in her blood were very high, which is indicative of possible cancer. They did some more testing and poking and prodding, and low and behold, Bitsie has a large tumor in her belly. So, GDB called Emily back and told her the news: Bitsie is dying. GDB's doctors have fixed the skin problem, and Bitsie is much more comfortable than she was, but the cancer is inoperable, and unstoppable. She has maybe a month or so to live. Emily called me today to go with her to San Rafael to pick Bitsie up, to bring her home to be with family for her remaining time.
Bitsie was SO happy to see Emily when we got there. We talked to the vet, who was really quite compassionate about the whole thing. He was very clear: Bitsie can go at any time. It could be a few days, to a few months, but his best guess is about a month. The medication (prednesone) will help keep her comfortable, and feeling as well as she can. He told us it's up to us to decide when Bitsie should be put to sleep. The vet explained it as a quality of life thing, which I completely understood. At some point we will have to decide when Bitsie's discomfort over-rides any joy she gets out of life. He was having as hard a time telling us as Emily and I were hearing it.
What a tough to thing to decide.
Now, I need to be clear here: Bitsie doesn't live with me. She did up until my x-wife and I separated. She's lived with Emily, her sisters, and their mom & her boyfriend for the past year. They are the ones who will be there, day in and day out, playing with Bitsie and seeing her react. They are the ones who will eventually decide when it's time. I just pray they can all understand and see it as a part of life. A very sad part of life, but life nonetheless.
Bitsie has been such a terrific dog and companion. Her big, loud bark provides a sense of security around the house, even though I don't believe she'd ever bite a soul. She is always happy and playful. All of us who have known that dog will miss her terribly. I'm very, very glad to have her back in her home for her final days. It goes back to what I wrote about my dad above. No regrets. A chance to say the things, or do the things, or play the things, we all wish we could have, after we realize it's too late. With Bitsie, it's not too late.
As a father, I know it's tough on the kids, but what a valuable lesson in life! Speak now, or forever hold your peace.